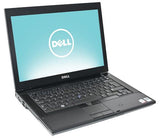 Dell Latitude E6400 Laptop Intel Core2Duo 2GB RAM 160GB HDD 14" SCREEN DVD
Dell Latitude E6400
The Latitude E6400 as configured has more than enough speed and storage space to handle most users needs. The high-end Intel Core 2 Duo P9500 and nVidia Quadro NVS 160M combined with a reasonably fast hard drive make this laptop an excellent performer, for both lightweight multimedia uses and number crunching.
Build and Design
The Dell Latitude E6400 is thoughtfully designed not just for looks, but to survive a long day on the job. With premium magnesium alloy construction, longer-lasting paint finishes and robust metal hinges, the new Latitude E6400 is more durable than ever. Work more comfortably with a precision-tuned keyboard that offers stronger key durability and optional backlighting. Roam the halls in style with our sleeker, slimmer profile that was inspired by feedback from thousands of users just like you.
Ports and Features
The Dell Latitude E6400 cThe left side is home to a VGA port, two USB 2.0 ports – one of which doubles up as an eSATA connector – and, toward the front, a smart-card slot. The cooling vent's in the middle and slopes back from the top, just as the optical drive does round the other side,Next to the multi-format DVD burner, you'll find a four-pin Firewire port, a PC Card slot, a switch for the wireless sub-system, audio sockets and two more USB ports,Like the sides, the front slopes away from the wrist-rest edge and is home to a five-in-one memory card slot. The battery's at the back – clad in grey to stand out from all the black – in between Gigabit Ethernet and DisplayPort connectors.
Screen 
The Dell Latitude E6400 14.1″ diagonal widescreen matte TFT LCD display at 1440x 900 (WXGA+, matte) is absolutely beautiful. No dead pixels were found during testing, and backlight bleed while noticed on some dark screens was minimal. Colors were vibrant despite the matte screen and the additional benefit of matte screens is the lack of reflection in an office environment. Wide viewing angles made the screen look sharp even at oddly contorted angles. Backlight adjustment was very broad, allowing me to adjust low enough for darker room settings, and bright enough to still be readable in sunlight or a bright office.
Keyboard and Touchpad
The Dell Latitude E6400 the keyboard and palm rest structure is solid, but the thin alloy used in the palmrests does flex a little when pressure is applied. Pressing down very firmly, the keyboard suffers from virtually zero flex and is a nice improvement,The keyboard is very comfortable,the Alps touchpad has a nice smooth texture and is reasonably responsive
Specifications
| | |
| --- | --- |
| Brand | Dell E6400 |
| Item Height | 18 Millimeters |
| Item Width | 28.4 Centimeters |
| Screen Size | 14 Inches |
| Item Weight | 1.69 Kg |
| Product Dimensions | 18.9 x 9.4 x 1.9 cm |
| Item model number | PP27L |
| Processor Brand | Intel |
| Processor Type | Core 2 Due |
| Processor Speed | 2.80 GHz |
| RAM Size | 1 GB DDR2 |
| Hard Drive Size | 120 GB |
| Hard Disk Technology | Normal |
| Graphics Coprocessor | Intel Integrated Graphics |
| Graphics Card Description | Integrated Graphics Card |
| Hardware Platform | PC |
| Operating System | MS-Dos |
| Average Battery Life (in hours) | 1 to 2 hours |